The Lighting Warehouse: The ABC's of Vintage Industrial Chic
The Lighting Warehouse remains on the cutting-edge of design with their latest launch of bespoke lighting products, including a fabulous range of vintage industrial chic options to suit your urban lifestyle.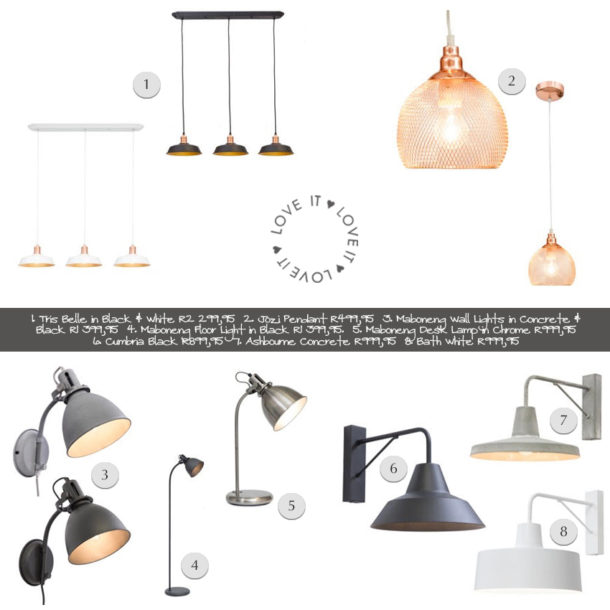 Here we take a closer look at the newest offerings
TRIS BELLE The Tris 3-light bar pendant will stand as a focal feature in any kitchen – offering great task lighting, as well as adding some vintage charm, metallic glamour, and complemented with some New Age modernity. It is available in white and matte black and retails for R2 299,95 each.
JOZI LIGHTS Inspired by the City of Gold, the Jozi pendant light retails for R499,95 from the Lighting Warehouse. Comprising an eye-catching semi-sphere made from copper mesh, the Jozi pendant will add some industrial glamour to any room it graces.
VINTAGE METAL WALL LIGHTS The Lighting Warehouse has recently launched three stunning new ranges of industrial vintage-inspired metal wall lights with rustic, weathered finishes that are bang on trend. You can use them to replace tired looking fixtures throughout the home for a trendy update. The three ranges comprise the Ashbourne, the Bath, and the Cumbria – all of which are available in a Concrete, White or Black finish. The Ashbourne and Bath ranges retail for R999,95 each, while the Cumbria retail for R899,99.
MABONENG MAGNIFICENCE Taking its cue from the Maboneng Precinct in Jo'burg, which has evolved into a collaborative hub of culture and lifestyle that entices curiosity, encourages exploration and promotes a sense of urban togetherness – the new Maboneng lighting range from The Lighting Warehouse sets the trend for urban chic. Available as wall lights (R1 399,95), desk lamps (R999,95) or floor lamps (R1 399,95), the Maboneng range is available in three finishes, namely Concrete, Black or Silver.
Visit www.lightingwarehouse.co.za for more information or to shop online.
---
Interested in advertising with us? Find out how →