SAOTA's Stylish New Bora Headquarters in Spain
This relaxed resort-style home and work environment, a short flight from Germany, blends into its surrounding bucolic landscape through its use of form and locally inspired materials.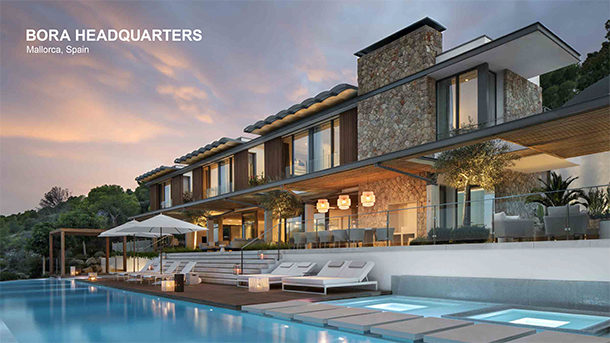 Designed by SAOTA, it reflects a contemporary take on Mallorca's architecture. The client's vision for Bora Headquarters was inspired by the airy light-filled spaces of SAOTA's Cape Town projects that they had previously visited. The complex, steeply sloping site required careful placement of the building to provide comfortable pedestrian and vehicular access. Its length allowed for the creation of a linear terraced building with every important room, on both the terrace and bedroom level, having uninterrupted views with an emphasis on outdoor living.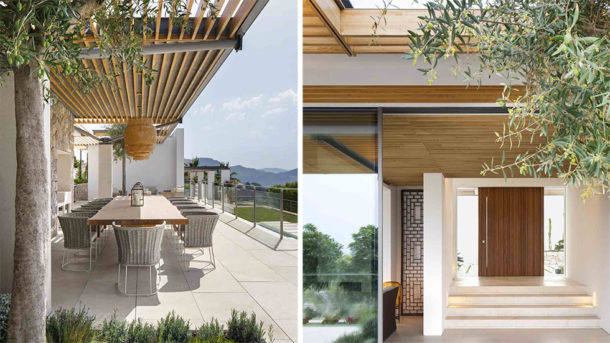 The linear arrangement is interspersed with green pause spaces on both levels. Stone walls act as holding elements at the ends of the building. The three bedroom blocks on the upper level are separated with lush courtyards all tied together by the steel holding edge beams. The building is a fusion of a contemporary approach with regional influences. The traditional curved tiled roofs in the area inspired the exterior upper eaves and internal gallery where the forms are re-interpreted as a series of stone vaults.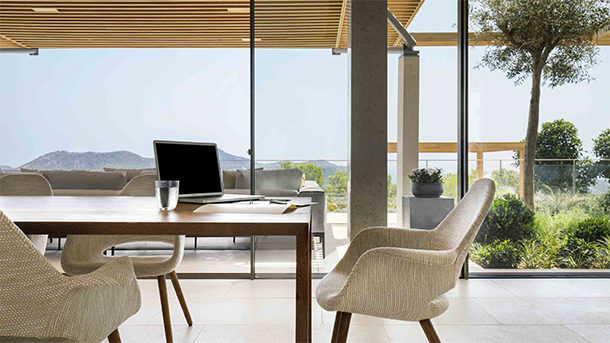 The building is layered in the use of materials including plaster, stone, wooden pergolas and shutters, aluminium and large expanses of glass. The entry forecourt leads one into the main living level which opens onto a shaded outdoor terrace, raised half a level above the pool. Internally it is arranged as a series of individual open plan spaces. There is a seamless flow between indoors and outdoors. The pergolas and tree canopies control the sunlight and create a gentle dappled interior feel. On the upper level, bedrooms open into a light filled gallery with the signature barrel vaulted ceilings, echoed from the exterior.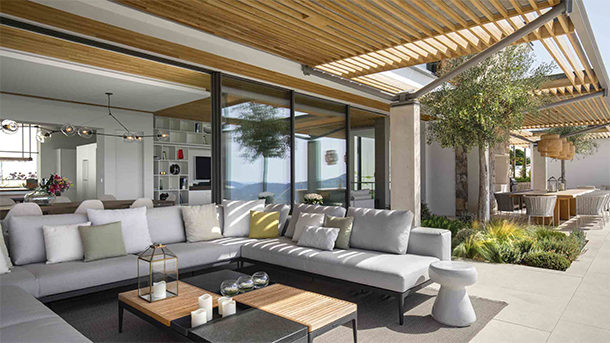 The building reflects a passive design approach with deep overhangs, sliding shutters, screens and recessed doors and windows with natural light and ventilation flooding the interior spaces. The interiors, by ARRCC and Revuelta y Stahn (RyS) Architects, are neutral and understated with accents of textured and hand-crafted pieces. The brief was to create a balance between comfort and elegance. Spaces were furnished with pieces from amongst others Minotti, Giorgetti, Poliform and Molteni & Co. The dining room features a custom Pierre Cronje French Oak dining table, complimented with Paola Lenti dining Chairs. The artwork is from the client's private collection. SAOTA collaborated with Spanish-based architects, RyS Architects. With an international footprint in 86 countries, this is SAOTA's first completed project in Mallorca, Spain.
Contact: SAOTA
---
Interested in advertising with us? Find out how →