St Leger & Viney: Introducing Palampore by Anna French
St Leger & Viney's love affair with batiks, tribals and paisleys continues. Introducing Palampore,  Anna French's vibrant and exotic collections of wallpapers and fabrics inspired by 17th-century decorative Indian cloths. A modern take on a most magical era. Now that sounds like a match.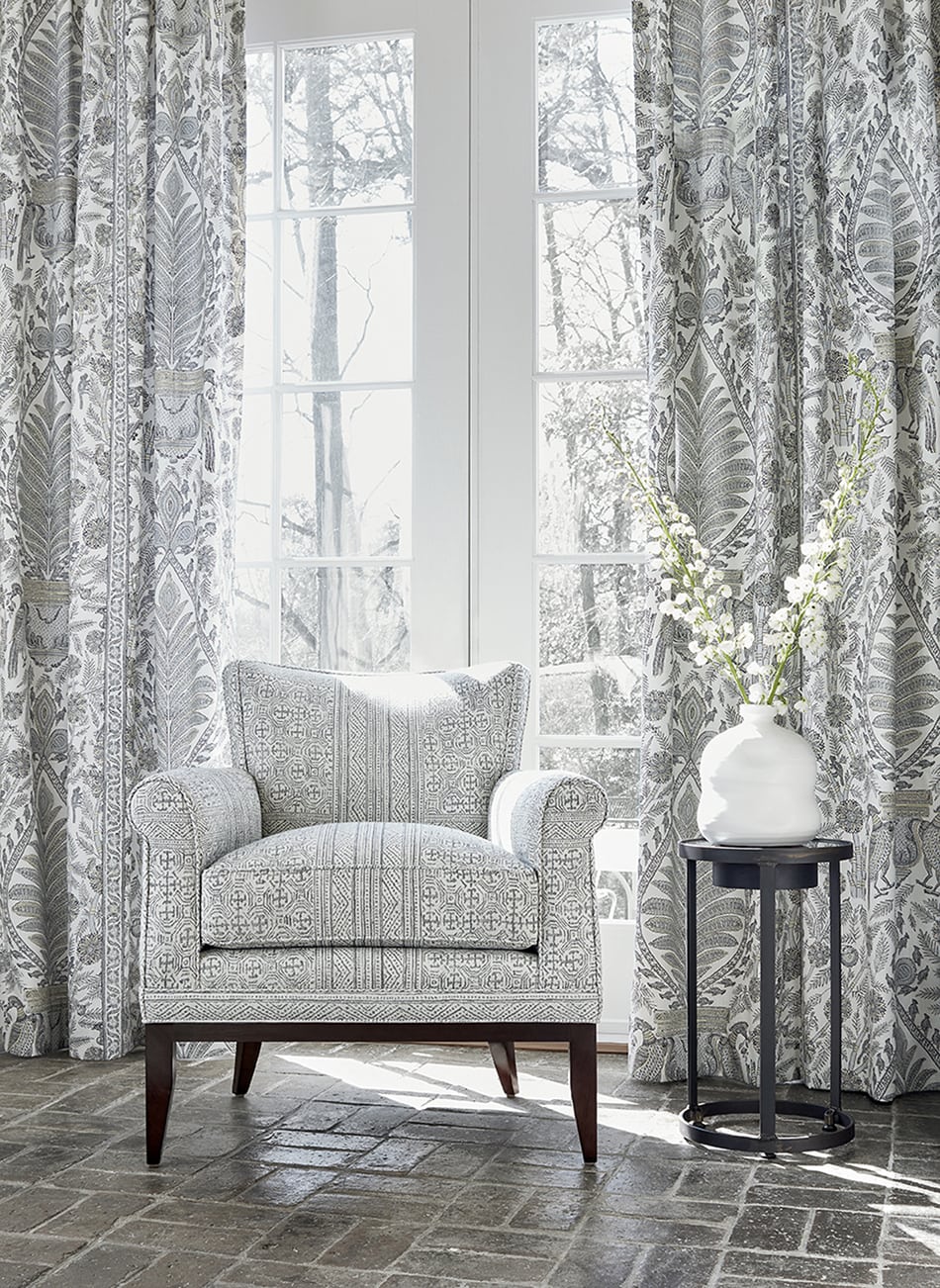 Over the years, Anna's business has been driven by her determination to remain bold and original. From the vibrant designs she began producing at art school in the 1960s to the big, brilliant wallpaper and fabrics that make up her collections, Anna's style is always evolving. Her courageous use of colour and flair for the dramatic remain unchanged.
Superb Details:




Palampore combines exotic Indienne-inspired and indigenous designs in two coordinating collections of fabrics and wallcoverings. Look closely. It's all in the details.
The love affair with these decorated cloths became a European sensation in the 17th century as the vivid dying techniques were highly sought after and cotton was considered a luxury fabric for bedcovers. Patterns in these collections include tree of life elements – influenced by traditional palampore textiles – Jacobean flowers, unique leaf and paisley motifs, decorative small-scale designs and printed paperweaves, as well as a playful tiger, tribal and batik prints, that naturally complement the fabrics.
Palamore: Into The Garden
Flowers, fauna—and trees laden with wondrous little creatures. Oh my. Enter the modern, exotic and wildly traditional world of this enticing collection. Here, large-scale designs and printed paperweaves go modern, boldly honouring tradition.
A closer look: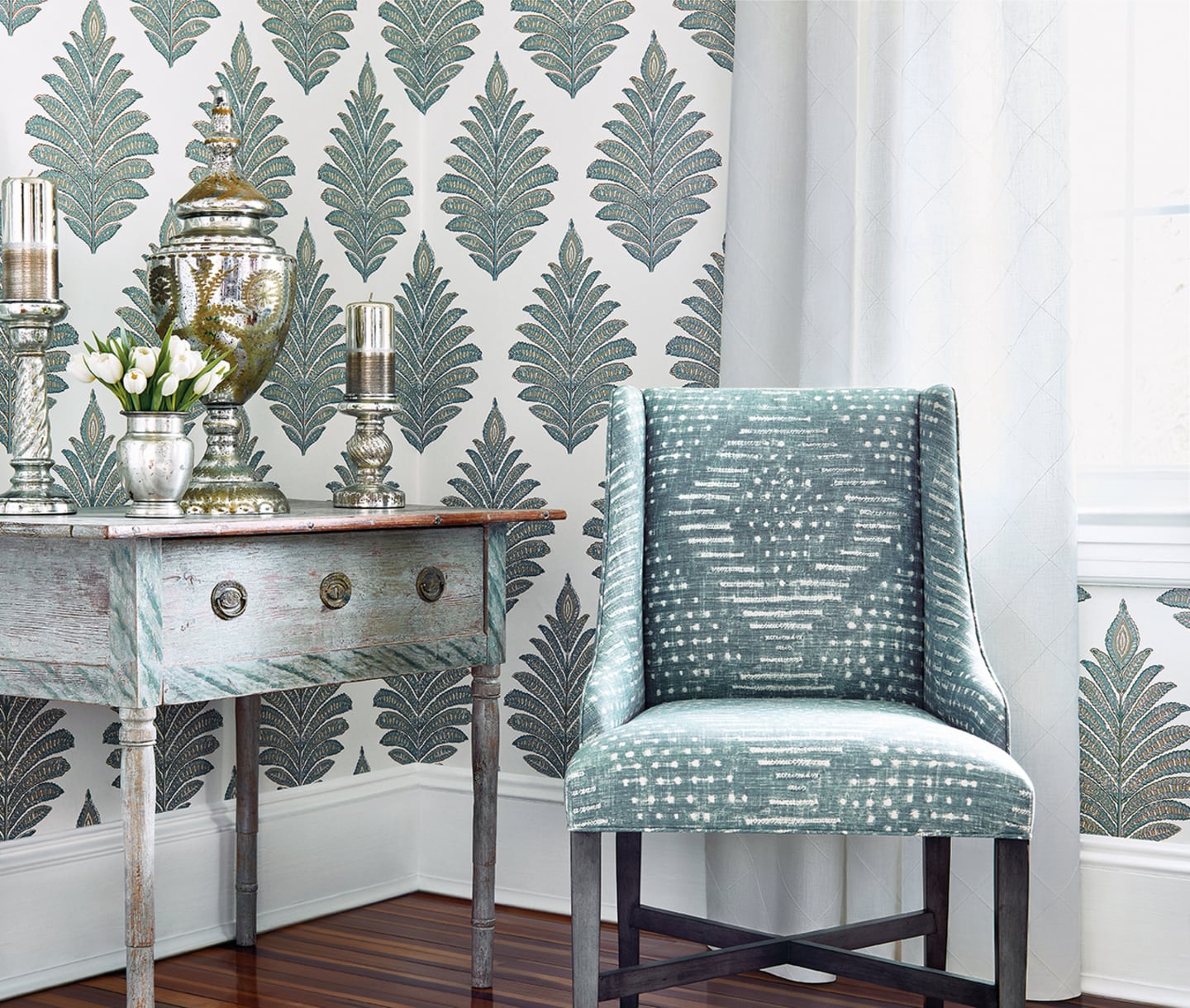 Inherent of its French name, La Provence was inspired by a French document–an antique quilt. The large medallion radiates with leaves and paisleys adorned with henna dot details.
Jules is a tribal motif with repeating triangles. The matching print is on 100% cotton fabric.
The colour blocks of Tansman are reminiscent of traditional African cloths. The strong tonal colour variations make a statement. The wallpaper pattern is digitally printed on top of the paperweave.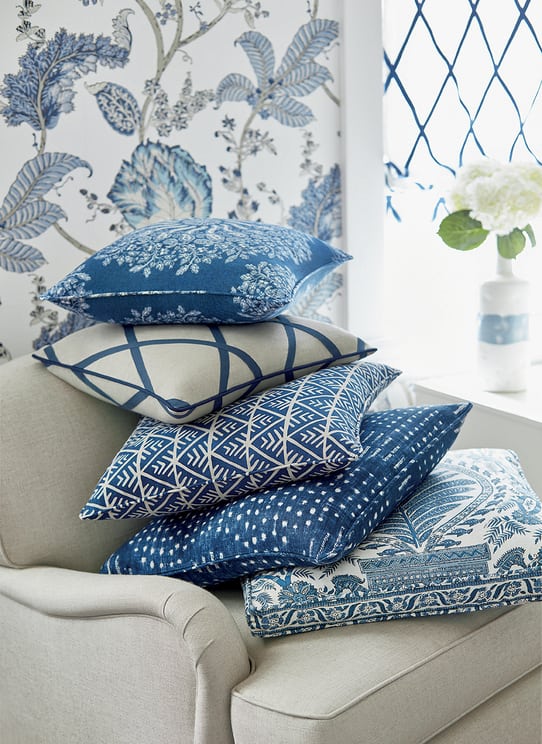 Based on an antique document and named after the Kalamkari hand-painting technique, this pattern features a large tree of life pattern with Jacobean flowers and leaves.
A simplified version of Kalamkari, Kalamkari Vine features the tree of life pattern with large Jacobean flowers and leaves.
Gibson is a simple printed texture of an ikat weave coloured to coordinate as a background wallpaper.
Inspired by an authentic one-of-a-kind palampore fabric dating back to the 18th century, Palampore's central pattern features a majestic vase with a leaf and adorning birds. Featuring just the centre leaf element from the Palampore fabric, Palampore Leaf is enlarged in scale.
Named after a small French village where they did a lot of textile printing, Jouy is similar to a vintage ditsy pattern featuring an open layout of stylized figures–birds/bugs/flowers.
Montecito is a lightweight woven fabric that is truly multipurpose–can be used for draperies, upholstery, pillows, etc. It's made in Belgium. Elements were taken from the Montecito fabric featured in a two-tone colour palette that was coloured to coordinate with other patterns in the collection to create Montecito Stripe.
Donavin Diamond replicates traditional block print technique. It's a tribal diamond shape in repeat.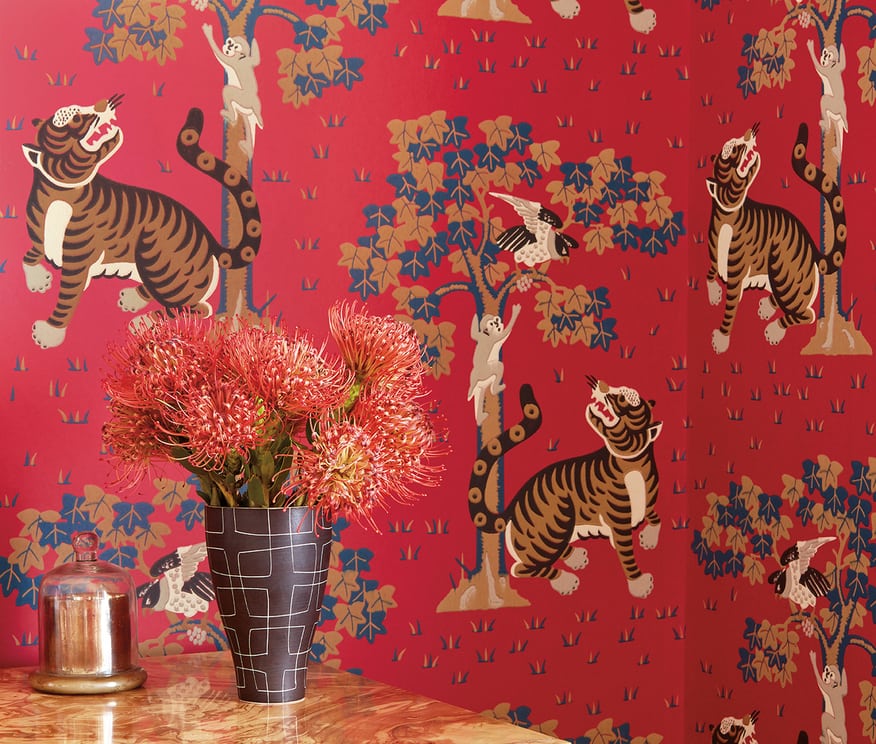 For more visit St Leger & Viney.
---
Interested in advertising with us? Find out how →