EXPERIENCE TRUE, RESTFUL SLEEP WITH THE ALL-NEW TEMPUR PRO
TEMPUR® was born from space. From thinking beyond boundaries. From discovering new possibilities. From pushing further than anyone else on Earth.
It is this mindset that defines who we are. With our legacy in NASA technology, we are forever looking to the future and continually exploring and inventing new ways to transform the sleep of people worldwide.
And it is a formula we have mastered with the all-new TEMPUR Pro® range, created from next-generation TEMPUR® Materials to form our most advanced, adaptive, and beautifully engineered mattresses ever.
The all-new TEMPUR Pro® collection* takes comfort and support to a whole new level. Featuring all-new TEMPUR® Advanced Material that relieves 20% more pressure, adapts even better, and absorbs more motion. Billions of ultra-sensitive cells inside respond to your weight, shape, and warmth, conforming to every inch of you. For the ultimate balance of comfort and support so you can enjoy proper, restful sleep.
Choose your TEMPUR Pro® model with our simple step-up system, you can choose the model height that is right for you. With each step-up, you will add more thickness – meaning more TEMPUR® Material and more luxurious comfort and body-conforming support.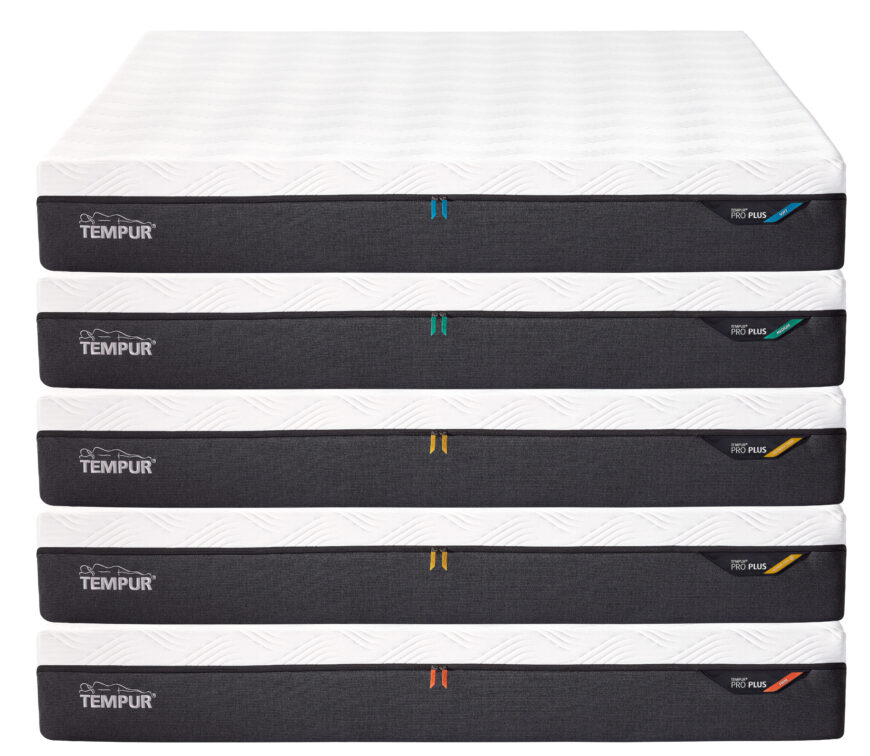 Pro At 21cm in height, TEMPUR Pro® offers the signature TEMPUR® feeling that gently conforms to your body for perfect comfort and support.
Pro Plus
At 25cm in height, the TEMPUR Pro® Plus has a generous level of TEMPUR® Material inside for unique comfort and body-conforming support.
SOFT A soft, cosy mattress feel with body-conforming support.
MEDIUM A medium mattress feel for the perfect balance of comfort and support.
FIRM A firmer mattress feel for the ultimate body support that gently conforms.
With the all-new TEMPUR Pro® range, the future of sleep is here.As a responsible and ethically conscious company, it is important to us that you know your TEMPUR® product is made safely and sustainably. That is why we are proud our new TEMPUR Pro®, TEMPUR One™ ranges are all MADE IN GREEN by OEKO-TEX®labelled.
This ensures every labelled product is made with materials thoroughly tested to be free from harmful substances and produced in environmentally friendly facilities under socially responsible working conditions. We are also striving to reduce our energy footprint and our impact on landfill sites in innovative and impactful ways. So, we can all sleep better at night, knowing we are doing our part to help leave a smaller footprint on our environment. Experience your most restful, undisturbed sleep ever with the new TEMPUR Pro®, and with the TEMPUR Pro® collection, you have the luxury to customise your sleep experience to match your individual sleep needs.
---
Interested in advertising with us? Find out how →