Cane Time Brings Us Royal Botania
Royal Botania has more than 25 years of experience in outdoor design. And their acquired know-how can be experienced time and time again. Every new collection breathes their DNA: sheer craftsmanship with an in-depth focus on design, ergonomics, and aesthetics. Their latest collections are now available locally through Cane Time.
Royal Botania turns your terrace and garden into places for endless enjoyment. With this new collection, Royal Botania succeeds once again in making your garden shine.
Folia:
Thanks to its striking design, the Folia immediately attracts attention, without being overwhelming. This distinctive chair is characterised by a contemporary elegance, inspired by the veins of a leaf. In addition to its attractive looks, this chair also offers very pleasant sitting comfort. The Folia is available in white powdered stainless steel and surprising bronze finishes.
Jive:
The harmonious combination of teak, aluminium profiles, and a seat in Olefin fibre gives the Jive collection a refreshing and decorative look. The combination of the different materials makes this chair a veritable chameleon. Modern or classic, this chair blends in everywhere. The aluminium frame is available in white, black, and sand colours.
Lusit:
This season, Royal Botania presents a modular lounge collection in a light and airy design. The frame of the Lusit Lounge consists of powder-coated aluminium tubes within a braided frame. This renders the seating and back into a kind of grid. The braided frame is firm, yet it feels very supple. With this playful concept, you can adjust it at will thanks to the easy-to-mount back and arm elements. The Lusit Lounge is available in white and the new bronze.
NINIX:
Royal Botania's NINIX collection has become a real classic. The minimalist design translates into maximum sitting comfort. This year, the aluminium frame of the existing collection is immersed in bronze. In turn, the wide range of tabletops has been extended with a ceramic top in Vulcan black. A real eye-catcher for every terrace.
Twist:
This chair immediately catches the eye: modern design, defined by a bronze aluminium seating and a back made of braided thread that feels firm yet pliant at the same time.
U-Nite:
Pure and refined, two style characteristics that best describe the new U-nite collection from Royal Botania. This dining table, available in five sizes, consists of a teak or powder-coated aluminium frame and a ceramic tabletop. From certain positions, the thin and elegant frame may give the impression that the tabletop is floating. The combination of modern design and the warm feeling of ceramics make of this table the perfect eye-catcher for your terrace or garden.
Zenhit:
In the past, Royal Botania has defined sheer luxury with the Zenhit collection. In 2018, the Zenhit lounge collection is extended with a fully teak arm chair. The characterising elements of the Zenhit collection have been included in this new, contemporary chair: elegance, straightforward design, and unprecedented sitting comfort.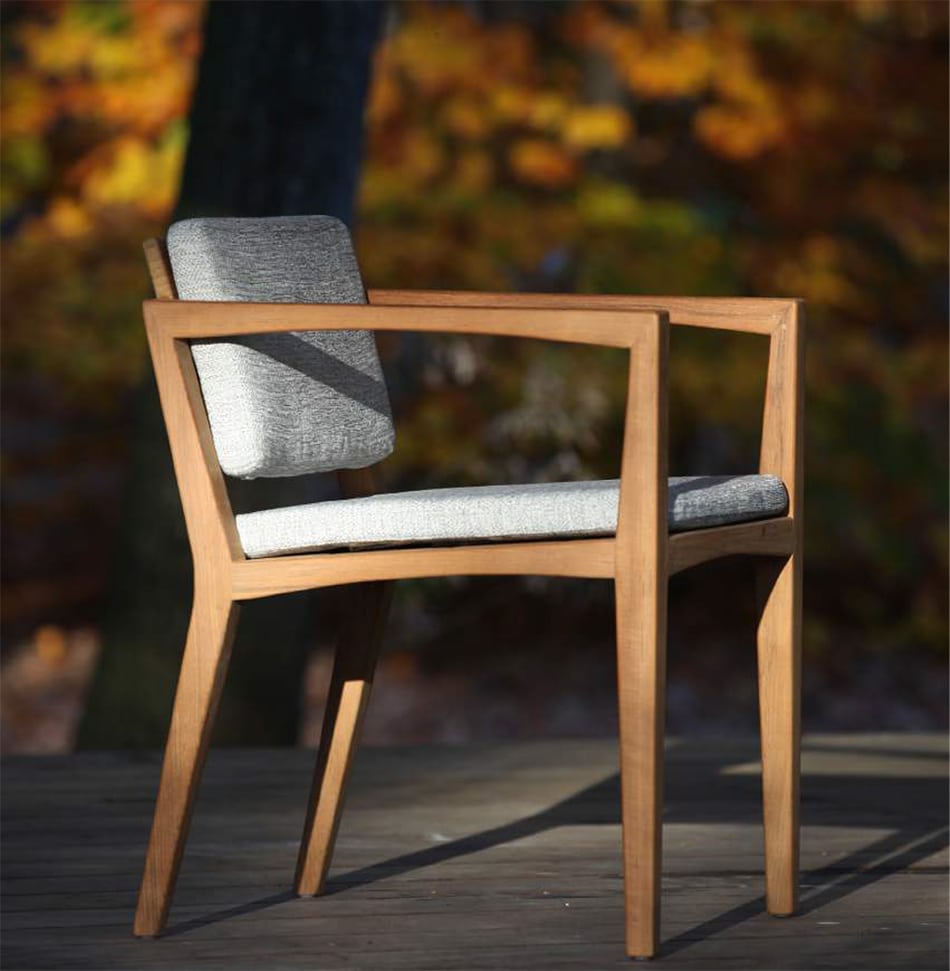 Contact: Cane Time
---
Interested in advertising with us? Find out how →