Cooking in Style with Gaggenau & PITT Cooking
The kitchen has slowly moved from a space reserved for simply cooking and preparing food to becoming the entertainment hub and the heart of the home whether you are cooking dinner for the little ones or entertaining your friends and family over the weekend, appliances used for cooking have now become a statement on their own.
When it comes to Linear Concepts top picks for Cooking in Style, we are torn between the stunning finishes and design by Gaggenau and the new innovative technology and cutting-edge design from PITT Cooking. When we think of the term cooking in style, both cooking ranges come straight to mind for various reasons.
Gaggenau appliances exude luxury and finesse, having over 330 years of experience and expertise when designing innovative new technologies. The Gaggenau hobs come in a choice between the 200 Series and the 400 Series, Gaggenau has pulled out all the stops with their range of cooking tops.
The 200 Series cooktops offer a sleeker understated design with professional-standard technology for your private kitchen with an efficient and elegant design. The 400 Series cooktops offer professional-standards as well, with vertically mounted stainless-steel knobs or touch display. The 400 Series incorporates specialised appliances such as a deep fryer with a heat sensor and a steamer with highly sensitive water temperature control, allowing anyone to become the master chef of their home. Both the 200 Series and the 400 Series come with the choice of flush or surface mounted cooktops, allowing a for a sleek contemporary design.
Pitt Cooking is an innovative brand that specialises in gas cooktops; a cooking concept where separate burners are directly integrated into your worktops, while all technical aspects are hidden below the worktop. This technology allows for the burners to be placed further apart, always allowing enough space for your pots and pans. The powerful, professional burners provide you with professional cooking results, while giving your kitchen a unique look.
The Pitt Cooking burners are safe to apply to your favourite worktops, coming in a small burner, medium burner and a large burner combined with a wok burner. The innovative design comes with robust, cast iron pan supports with burner components available in aluminium and brass finishes, with sleek black knobs which are surface mounted onto your worktop.
No two other brands epitomise Cooking in Style better than the sleek elegant designs by Gaggenau and the innovative design by Pitt Cooking, that why we love the look and style of these professional standard cooktops.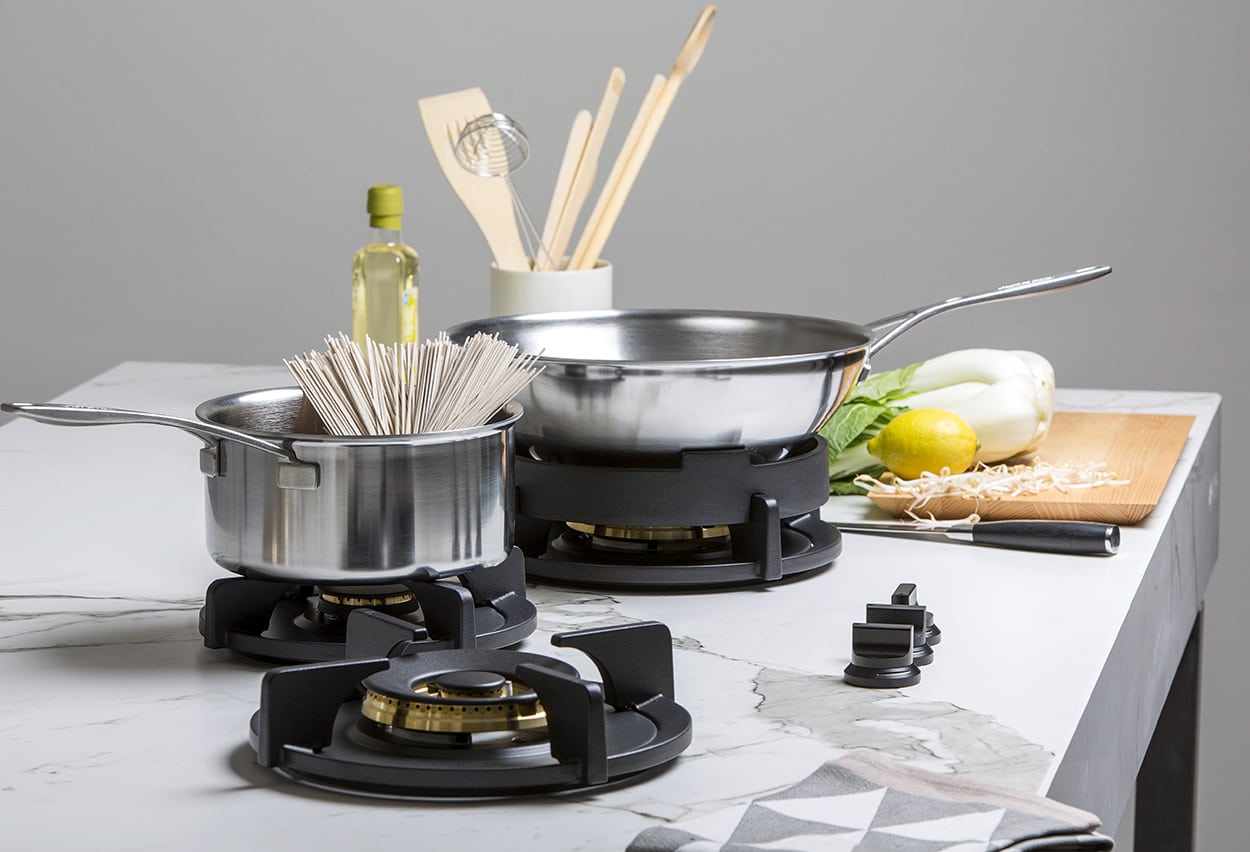 Concept: www.linearconcepts.co.za
---
Interested in advertising with us? Find out how →