FloorworX Succulent Art: Is Cactus the New Pineapple?
Pineapples were popping up everywhere last season but the fruity-inspired boom is over and a new trend is emerging: the cactus.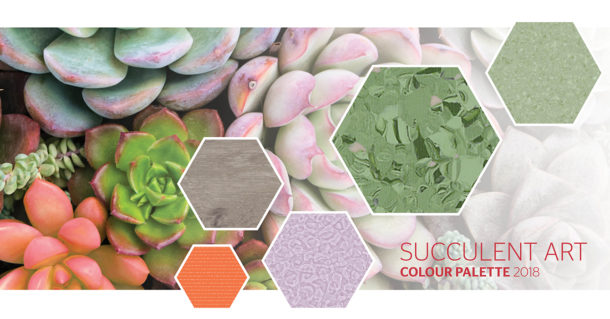 A quick glance at Scandinavian interiors on Instagram and you'll notice that, residing alongside the statement grey walls and the clean, minimalist lines, there's increasingly another common feature running through the images: different variations of the unassuming succulent plant. From aloe vera to potted cacti, succulents (plants that store water in their leaves) are a Swede's secret weapon when it comes to planting additional style into their homes. Everyone is embracing plant life and acknowledging that having greenery around you can spread positivity. However, Swedes have been seen to be pioneering in this trend. The nation's deep-rooted connection to the outside world and love of natural materials puts Swedes in pole position to be natural fans of bringing the outside inside. Equally, as living in rented accommodation is common in Sweden, these easily-transportable potted partners are an ideal way to put your own creative touch on the little corner you temporarily call home – whether you'll be living there for two months or twenty years. Life doesn't come much more easy-care than a cactus – it's that classic beginners' plant of the 70s, as a child. If you want to make a cactus happy, give it sunshine, sand, and water. Succulents are sustainable interior decoration in a pot and unlike most other plants, are night-workers, producing oxygen while we sleep. A great place to place succulents is in the bedroom; as they act as natural air purifiers, which will allow you to breathe more easily while you sleep and wake up feeling refreshed. So what's behind this spike in popularity? Over the past couple of years we have seen a shift to more playful product design and this year is no exception. The cactus as a design motif for Spring Summer 2018 have branched out widely, resulting in succulent icons appearing on everything from tea towels at Woolworths to scatter cushions at Mr. Price Home. In fashion, the cactus has spread with a speed which is inherently uncactus-like. For Millennials, a cactus isn't a cactus, it's a symbol of festivals, freedom and optimism. Perhaps the cactus has flourished because, in this new, universal visual language, the plant says both a lot and yet nothing at all. There is something appealingly human-like about them. They are brilliant survivors, adapting to adversity or change. They look as if they have mastered life, and maybe humans feel that's something they could learn from.
Contact: Floorworx
---
Interested in advertising with us? Find out how →