Embrace these shades of grey
When it comes to your bed, there's just one shade of grey to take note of: Shadow.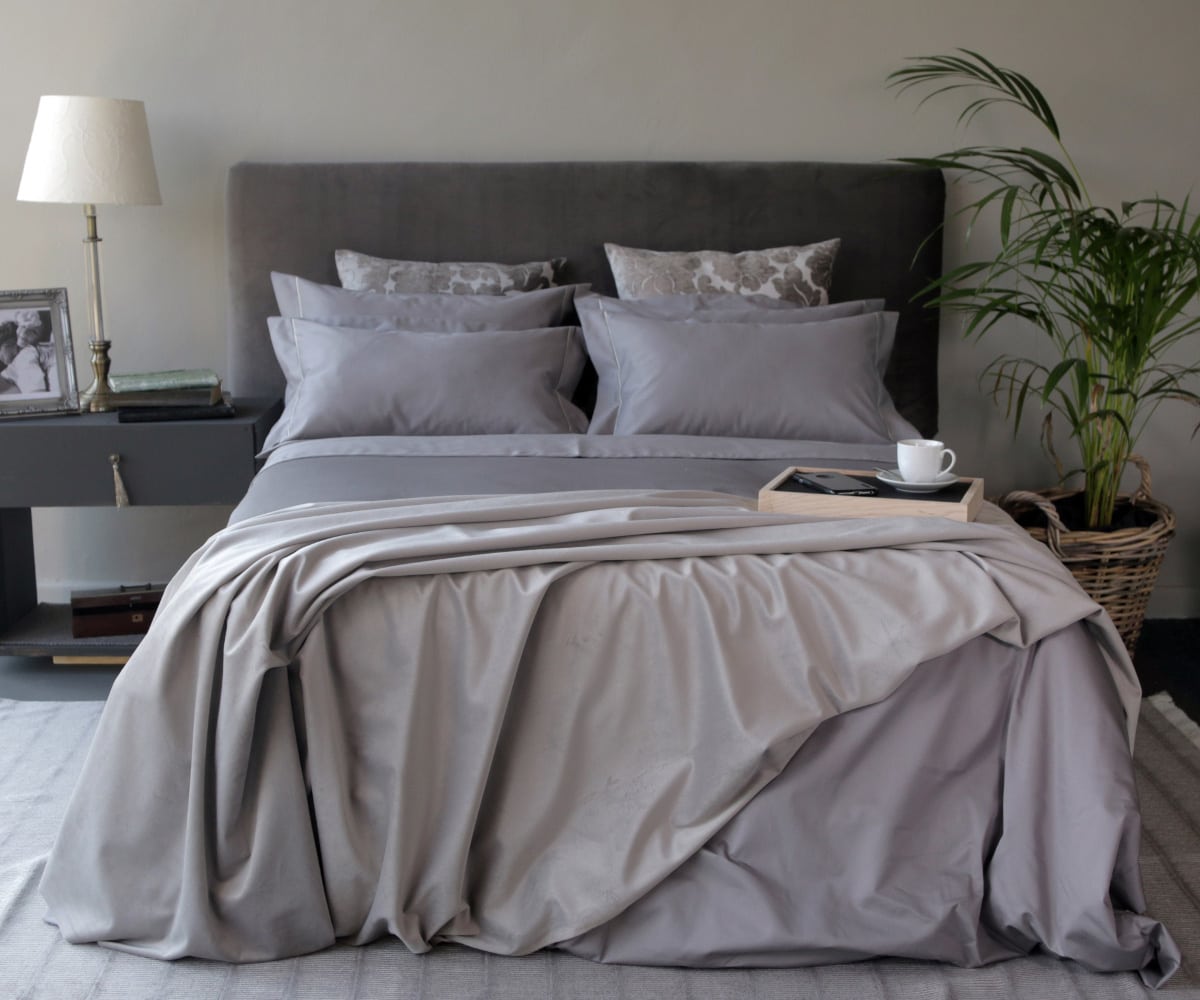 Still sleeping in the ever-popular white? Studies have shown that darker colours promote better sleep, and natural greys are high up on the list.
Falucca Fine Linen's 800 thread-count pure Egyptian cotton Signature Collection is available in five natural colours Shadow, White, Breeze, Oyster and Charcoal, but in this article, we will look specifically at the beauty and versatility of Shadow.
At once calming and unassuming, with a warm undertone, Shadow is easy to work with to create breathtaking bedroom decor suitable to a vast range of styles.
Experience truly sensual sleep when you slip into your Shadow bed linen. The natural fibres of the Egyptian Cotton offer ideal breathability, working to regulate your body temperature. Along with the satin-like feel of the fabric and the calm and warm grey tone of Shadow, this is a perfect bed style to snuggle into.
The Luxe Look
By adding a single satin stitch detail in Oyster to the Shadow, we bring a modern interpretation of a classic detail. We think this detail deserves formal styling to accentuate the clean, crisp line of the satin stitch.
The Egyptian Cotton fabric is woven using a sateen weave, which achieves a satin-like feeling against your skin. It also gives the fabric a beautiful sheen when ironed, giving the fabric an opulent lustre that is showcased particularly well in the colour Shadow.
The Scandi touch
Traditionally styled with touches of flax linen and wool to create texture, Scandinavian style has received an update, with the incorporation of natural tones that still adhere to the style's principles of harmony and simplicity. A simple Oxford border offers a neat, classic detail that frames a beautifully styled bed.
Ultra Monochrome
The deep, warming Charcoal and soothing Shadow are merged in a reversible duvet cover in this look to create effortless style. Falucca Fine Linen add the finishing touch with bold border pillowcases that use Charcoal in the oxford border. It's a "no frills, no fuss" look that's easy to put together.
Love these looks or have a specific style idea for your bed? Email Falucca Fine Linen at info@faluccalinen.co.za or call Cherie on 082 548 4703.
---
Interested in advertising with us? Find out how →