Jeeves: The Best in Heated Towel Rails Trends for 2018
Want to be on-trend with the cutting-edge bathroom style for 2018? Then stay right here! The New Year brings exciting innovations to the bathroom space, with the heated towel rail taking place of pride as a definitive element in bathroom luxury.
This year's bathroom trends are all about colour, creating interest through dramatic focal points, including your own personal stamp, together with an overall theme of luxury and style. As the leading manufacturers of 100% stainless steel heated towel rails in South Africa, Jeeves takes a look at the on-trend heated towel rail and how to incorporate this chic accessory as part of your trendsetting, new bathroom style for 2018.
1. Creating a Bold Statement As more focus is given to the bathroom space, the creation of a focal point in the bathroom rises in prominence, as a means of bringing a bold statement to the room. A great way to embrace this trend is by creating a striking look through strategically placed accents, bringing a sense of luxury and elegance to the bathroom space. This can be achieved with various on-point features such as a freestanding bath partnered with the fashionable streamlined design of a heated towel rail, while bringing in the ultra-modern influence of the popular minimalist style.
The versatility of the heated towel rail also allows this trendy bathroom accessory to make a statement on its own, bringing an ultra-stylish flair to the room. Here, your choice of heated towel rail will play a key role in turning heads while giving your bathroom a relaxed feel. Jeeves offers a dynamic selection of show-stopper heated towel rails such as the bold Tangent L Ladder rail which draws the eye along its tapering horizontal sides or the glass mounted Spartan F which provides a 3-dimensional experience of the heated towel rail, to establish a dramatic focal point which can be enjoyed from different angles in the room.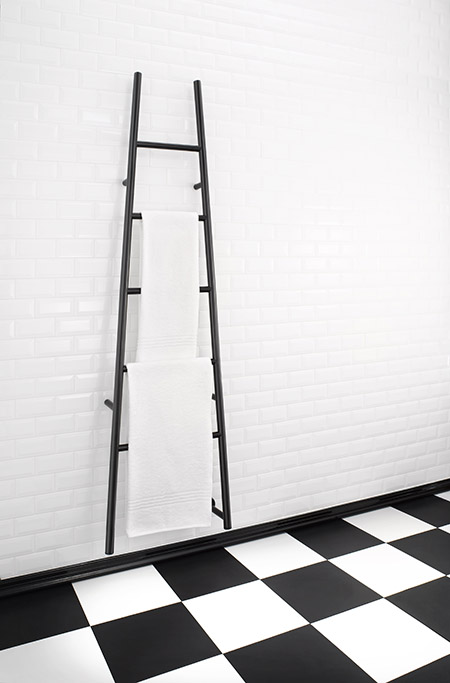 2. Top 3 Heated Towel Rail colours for 2018 2017 saw an increased demand for heated towel rails in different finishes, with white, black and rose gold emerging as the most popular colours. This trend is set to continue in 2018 as more of the leading sanitary ware and bathroom accessory manufacturers expand their offerings to accommodate a greater variety of finishes. Having already provided a choice of finishes for over 5 years, Jeeves has seen the demand for colour increase over the last 18 months, as other manufacturers provide more online offerings, making this stylised option more accessible to the public. Out of all these three colours, black is the new chrome, setting the trend as the most popular colour in heated towel rails and bathroom accessories. More contemporary than traditional chrome finishes, black accessories are sleek, sophisticated and striking, while also serving as a background which compliments a wide variety of shades, further opening the possibilities of artistic expression in the room. Black accents are on-trend and definitely here to stay in 2018, both as a dramatic presence and as a colour which harmonises with other bathroom elements, creating a striking interplay of contrasts in line with the trending bold statement for the bathroom.
3. Bathroom Luxury Indulgent décor elements in the bathroom area help create an exclusive haven, away from the busy routine of daily life. This quintessential bathroom trend for 2018 can be achieved through the strategic introduction of luxurious touches, such as plush towels elegantly threaded through the horizontal bars of the heated towel rail seen in the Jeeves Classic Range. Towels bring an added dimension of texture while creating an impression of sophistication which heightens the sense of indulgence, crowning the bathroom experience with the delightful luxury of a constant supply of deliciously dry towels. Additionally, as a standalone addition to the bathroom, the heated towel rail offers a singular aesthetic appeal with its contoured, streamlined design adding a pampered feel to the room.
4. Optimized living space Trends for 2018 emphasize practicality combined with stylish appeal. In this way bathroom design elements become a sophisticated art form, balancing functional efficiency with a charming decorative impact. This can be achieved with a heated towel rail which sets the scene for spa-like spoiling, along with the added benefit of providing a sleek storage solution.
For a heated towel rail which boasts efficiency together with contemporary styling, look no further than the models in the Quadro Range. Featuring contrasting styled square and circular tubing, the designs compliment bathrooms incorporating sanitary ware and brassware with squared-off design elements.A chic and on-trend choice for the modern bathroom, bringing equal amounts of sophistication and convenience to optimise the living space of room. This brings in a minimalist aesthetic, where the effortless simplicity of the heated towel rail design contributes to the soft serenity of the room, transforming the space into a peaceful oasis, presenting a trendy look with a practical edge.
5. Your personal stamp Adding your personality is key to the on-trend theme of incorporating your own signature style into your bathroom. This can be easily achieved by introducing special elements which bring a unique feel to the room such as Jeeves' customized options of modifying a heated towel rail according to your design specifications and your design style. This 2018 trend actively involves the homeowner in the design process, so that you become the author of your own optimised bathroom experience, creating a personalised, quiet retreat that offers you an indulgent respite from the rest of the world.
Each element of the 2018 bathroom trends combines into a harmonised style, creating a holistic feel, where function meets form, flexibility invites your personal input and coloured accessories bring unity, interest and a contemporary feel to the room. In this way, the variety of inspiring new parameters are open to interpretation, to create a personalised look, so that interactive engagement with on-trend elements creates a sublime space uniquely styled as your haven for indulgent relaxation throughout the year. Contact: Jeeves
---
Interested in advertising with us? Find out how →