Bathroom Butler: Trending Mood Boards For A Blissful Bathroom
Bathroom Butler, leading manufacturers of Heated Towel Rails and stainless steel bathroom accessories launch the latest Mood boards in association with lead designer, Juhane van der Merwe from Lifestyle Ceramics.
This month, Bathroom Butler and Lifestyle Ceramics highlight a few mood-boards for your bathroom to get the creative ideas flowing and to inspire your next bathroom renovation.
Bronze Accents do a great job in enhancing an all-white bathroom. To get the look shop for premium marble tiles that are perfect for conveying modern luxury and then add a pop of rich colour with Bathroom Butler bronze bathroom accessories for a warm and glamorous finish.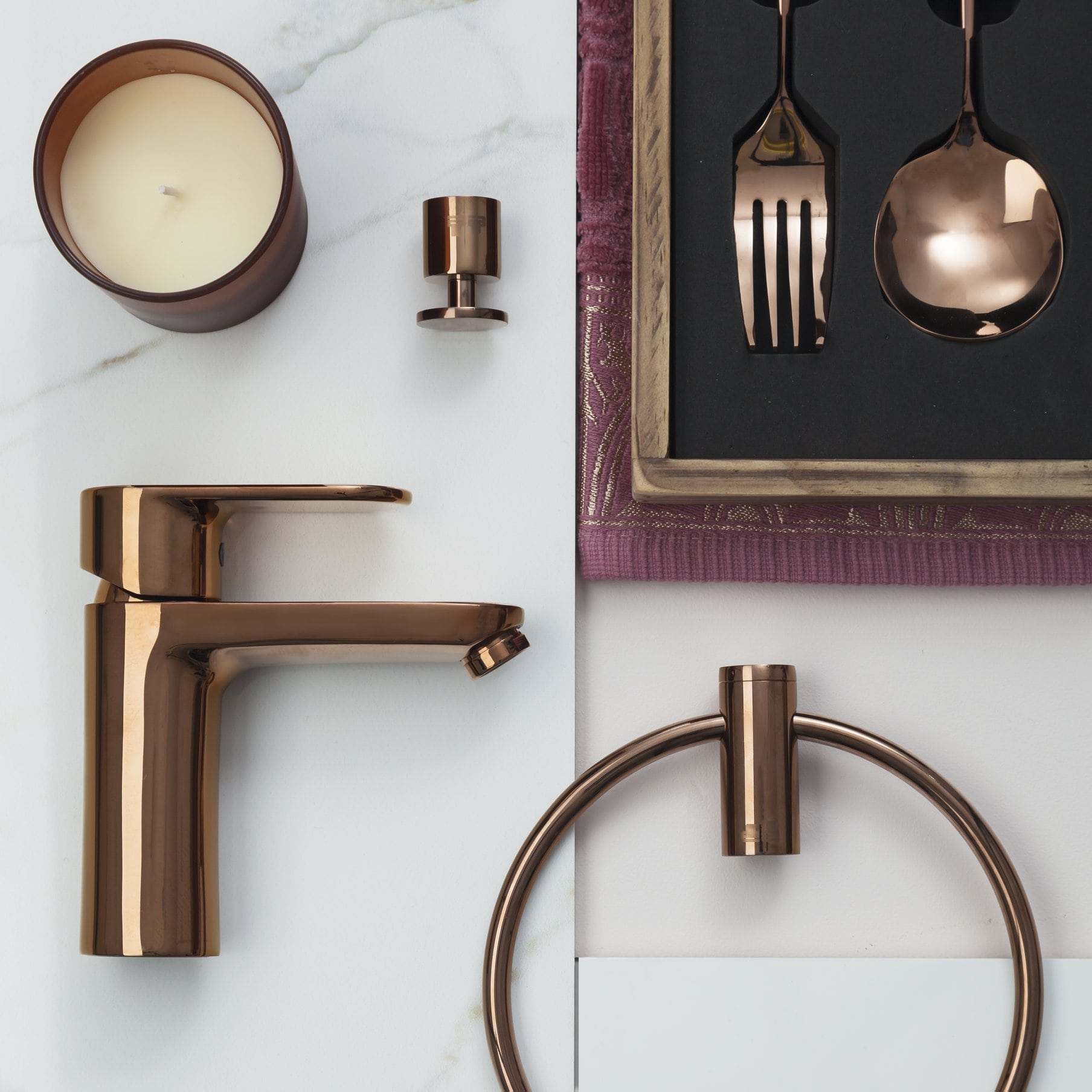 Achieve the contemporary Feminine Minimalist look by making use of light shades of pinks which are subtle and sophisticated. If you prefer white porcelain, pair yours with a blush-toned wall paint and styling accessories such as towels and rugs. A white marble tile that will accentuate the various pink tones while polished rose gold bathroom accessories will complete the look.
Consider combining bamboo and stone-like tiles in order to achieve the Interesting Textures look. Grab inspiration from nature and go for tactile add-ons in organic shades, such as brushed bronze bathroom accessories that go well with the rest of the organic colour palette of deep browns and greens.
The natural Light Wood look is popular in interiors and this also extends into your bathroom. Pair a wood-like floor tile with a neutral wall tile to balance out the rustic effect of the wooden texture. This will create minimalism with a touch of warmth and interest to your bathroom space. Add Bathroom Butler matt black bathroom accessories to complement the wooden feel.
Reminiscent of past Victorian bathrooms, achieve the Vintage Glamour look by pairing the classic white marble or plain white floor tile, with navy blue or emerald green shades on wall tiles or wall paint. Add styling items that mimic nature in colour or pattern; you can never go wrong with green indoor plants. Finish off the look with bronze accessories for an overall nostalgic effect.
Juhane says that when designing a bathroom; keep in mind what the overall theme and design is of the entire house – both interior and exterior. She then suggests that you identify the needs for the bathroom – is it a guest, family or children's bathroom and are there any special need requirements like wheelchairs or his/her basins?
After these considerations have been made, think about the space allocated for the selected accessories not only with the basics like baths or toilets, but also the ceiling heights or obscure bulkheads.
Juhane also makes an interesting observation as far as lighting is concerned – is it natural or artificial lighting and what type of light fittings are being used? Lastly, Juhane suggests that you choose bathroom accessories, stainless steel or coloured ones, that a) fit with the theme of the rest of the home and b) reflect your individual style. "It's important to choose accessories, colours or themes and textures that will ultimately offer you the desired look and feel that you're going for."
Contact: Bathroom Butler
---
Interested in advertising with us? Find out how →